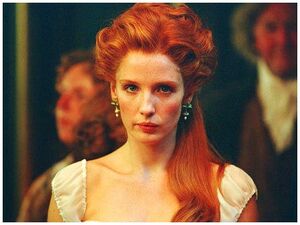 Caroline Bingley is the sister of Charles Bingley and Louisa Hurst. She starts off as about twenty-years-old at the novel's commencement, which makes her Elizabeth's age.
Jane Austen described Caroline as a rather handsome young woman with an elegant figure, a fortune of twenty thousand pounds, and an education in one of the first private seminaries in town. However, she and her sister Louisa had a habit of spending more money than they ought to, and were proud and conceited. Both sisters also love to associate with people of rank, and were capable of being agreeable and humourous only when they choose to. Hence, it could be said that they are as different from their brother Charles as day and night, especially since Charles' unpretentious amiability extends to all and makes no distinction of rank.
Caroline, in particular, is also selfish, hypocritical, and two-faced, all negative qualities of which is fueled by desire to win Mr. Darcy as her husband. She starts off professing a great friendliness for Jane Bennet, but later conspired with Louisa and Darcy to separate Jane and Charles when it became increasingly evident that her brother was truly in love with Jane and desired to marry her (she wanted her brother to marry Georgiana - Darcy's sister - instead, hoping that a match between Charles and Georgiana will make a match between she herself and Darcy more likely). One of the reasons why she looks down on the Bennets was their connections to trade, which is the very source of her family's wealth.
Upon recognising Darcy's interest in Elizabeth early on, she attempted to end it through a mixture of criticising Elizabeth's undeniably embarrassing relations and teasing Darcy. However, her attempts all yielded the opposite results of highlighting Elizabeth's positive qualities, and making Darcy acknowledge his true feelings over what was expected of him (in his own prejudiced opinion).
Caroline was said to be very deeply mortified by Darcy's and Elizabeth's marriage, but as she wanted to retain the right of being able to visit Pemberley, she released her resentment, retained her original deferential attitude towards Darcy and Georgiana, and took care to treat Elizabeth with all politeness and respect.
In the 1995 mini-series, she is portrayed by Anna Chancellor. In the 2005 adaptation, she is portrayed by Kelly Reilly.
Caroline - close friends and family
Miss Caroline Bingley - before Louisa (who is probably the elder sister) married
Miss Bingley - others, after Louisa married