Charles Bingley is one of the main characters in Pride and Prejudice. He is married to Jane Bennet Bingley and is the brother of Louisa Hurst and Caroline Bingley. He is the son-in-law of Mr. and Mrs. Bennet and the brother-in-law of Mr. Hurst, Elizabeth Bennet Darcy, Mary Bennet, Catherine Bennet, and Lydia Bennet Wickham. He is 22 at the beginning of the novel.
Biography
Edit
Early Life
Edit
Bingley and his sisters hail originally from the north of England[2], but they probably spend most of their time in London since there is still one sister (Caroline) to marry off. Bingley inherited £100,000[3] from his father, who had wished to purchase an estate[4].
Move to Netherfield
Edit
Bingley decided to rent Netherfield Park, an estate located in Hertfordshire near Longbourn, Lucas Lodge, and the town of Meryton. He had £5,000 a year,[1] a huge sum. This made him an attractive marriage prospect for the Bennet girls, as proclaimed by Mrs. Bennet[2], who had the news from Mrs. Long. Bingley was immediate called upon by members of the village who were most interested in marrying off daughters, like Mr. Bennet and Sir William Lucas[5]. Mr. Bingley brought his two sisters and brother-in-law to Netherfield, and was also joined by Fitzwilliam Darcy, one of his closest friends.
Bingley first made acquaintance with the Bennet sisters during a public ball at Meryton, and he was very taken with Jane. Bingley was rather aghast at the aloofness of his friend Mr. Darcy, and how he would refuse to dance with anyone but Bingley's sisters, Caroline and Louisa[6].
He was pleased with his neighbors, and he said he never met pleasanter people or prettier women in his life, and that there was a promising lack of stiffness and snobbery[4]. This is in direct contrast to Mr. Darcy, however, who saw a collection of people in whom there was little beauty, and no fashion, where the only 'handsome' girl was Jane Bennet. Both Miss Bingley and Mrs. Hurst agreed with him, but thought Jane a sweet girl, thinking nothing of it. Mr. Bingley saw this as encouragement and a commendation[4].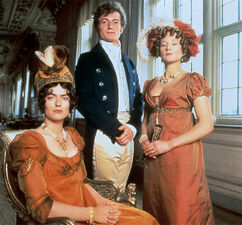 Jane's Sickness
Edit
When Jane caught cold due to riding through the rain for a visit with his sisters, Mr. Bingley generously gave her a room. He was very anxious about her health, and Elizabeth thought more of him for it[7].
Departure from Netherfield
Edit
Mr. Bingley had been fostering a tendresse' for Miss Bennet. His sisters, horrified at the thought of being connected to the Bennet family by marriage, convinced him to leave Hertfordshire. He had every intention of returning[8], but Mr. Darcy did everything he could to dissuade his friend from such an engagement. He concealed information about Jane being in London. Mostly, Mr. Darcy did it because he believed Jane to be indifferent[8], which would cause Bingley harm if he actually married her.
Notes and references
Edit
↑

Equivalent of around 6,700,000 USD in April of 2017

↑

Vol. I, Chapter 2

↑

Vol. I, Ch. 3

↑

Volume I, Chapter 8