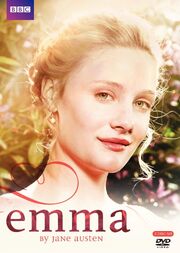 Emma is a 2009 film series by BBC.
Twenty-one-year-old Emma Woodhouse has very little to worry about. She is beautiful, clever, and rich, with a confortable home and some of the best blessings in existence. More than anything, she loves playing matchmaker to her friends and family. When young, pretty, naive, and socially inferior Harriet Smith arrives, Emma decides to indulge her passion. Against the advice of family friend and surrogate older brother Mr. Knightley, she persuades Harriet to reject an advantageous marriage proposal from a local farmer in order to hold out for an offer from the dashing Mr. Elton. But Emma soon discovers that Mr. Elton is far more socially ambitious and mercenary than she ever realized, and her advice to Harriet goes terribly awry.
Ad blocker interference detected!
Wikia is a free-to-use site that makes money from advertising. We have a modified experience for viewers using ad blockers

Wikia is not accessible if you've made further modifications. Remove the custom ad blocker rule(s) and the page will load as expected.