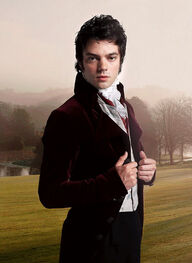 John Willoughby
is the dashing and handsome romantic interest of
Marianne Dashwood
. He was the heir to Combe Magna, and his aunt, Lady Allen's estate and fortune. Prior to his introduction to the story, he is much more of a flirt and a playboy, seducing the ward of Colonel Brandon,
Eliza Williams
, who falls pregnant with his child. However, upon meeting Marianne, with whom he unwittingly, genuinely, falls in love, and in attempting to being the man she deserves, news of the illegitimate child reaches his patron and aunt,
Lady Allen
, who disinherits him. This leaves him no home nor income to offer Marianne, and he must marry a
Miss Grey
, who has a dowry of £50,000, in order to satisfy both his debts and his aunt.
Although he initially saw Marianne Dashwood as a flirtation, they quickly form a deep connection with one another. Willoughby conforms to her idea of love, enjoying and disliking the same prose and poetry as she, and, at twenty-five, is much younger than Colonel Brandon. Her innocence and sincerity with her own thoughts and feelings attracts him, as he is used to the artificial personalities of city life. They meet when he appears suddenly to rescue her from a terribal fall and from then on proceeds to call on the Dashwoods frequently, bringing her flowers and poetry, where he and Marianne bond quickly. Their mutual attraction unites frankness and vivacity, and above all, they are passionately fond of music and dancing (Ch. 10). Both being more appreciative of exhibiting straightforward emotion, and true feeling, and are both open with their hearts. Willoughby has impassioned views on art that conform with Marianne's exactly. He still yet manages to add to all these continual rebellion of society's rules, giving him a bit of the mark of a rogue, making him still more attractive in Marianne's eyes. A typical literary Romantic hero.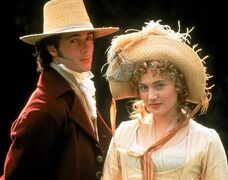 Because Willoughby cannot follow his heart and marry Marianne, he but instead goes off to London to marry an heiress and then regrets his actions. He isn't really much of a womanizer (like George Wickham); Willoughby really only leaves Marianne because he doesn't have his own money to marry her (much more like the good Colonel Fitzwilliam). Willoughby is desperate and had he never seduced Eliza, he would have found that he could have possibly married Marianne, and remained in a healthy, happy marriage instead of the depressing unhealthy one he found himself in with Miss Grey. Although Willoughby's character development allowed him to find love, his past mistakes came back to haunt and punish him.