Lady Anne Darcy (née Fitzwilliam) is a character mentioned in Pride and Prejudice. She died before the course of the novel, so she never appears in the book, but is mentioned quite a bit by Lady Catherine, her sister. Lady Anne was the daughter of the late Earl Fitzwilliam, and is thus styled as the Lady Anne, as opposed to Mrs. Darcy.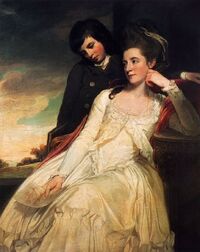 Lady Anne and Lady Catherine have one brother who is the current earl. Lady Anne is the mother of Fitzwilliam and Georgiana Darcy, the mother-in-law of Elizabeth Bennet Darcy, and the maternal aunt of Anne de Bourgh. Because of the close relationship she had with her sister, it is likely that Lady Catherine named her daughter after Lady Anne.
Before her death, she supposedly planned a betrothal between her son and her niece in order to reunite their two lines. According to Lady Catherine, this was her "favourite wish", but that was never confirmed.
How Anne is Addressed
Edit
Lady Anne/Lady Anne Fitzwilliam/Lady Anne Darcy - she was addressed as such by those who were not her intimates. As her father was an Earl, she would be called "Lady Anne" as a courtesy title.
Miss Fitzwilliam/Miss Anne Fitzwilliam - if her father did not receive or inherit his title until after she was born, Lady Anne might have begun her days as Miss Fitzwilliam or Miss Anne Fitzwilliam.
Mrs. Darcy - if she had married before her father received or inherited his title, Lady Anne might have been known as Mrs. Darcy at the beginning part of her marriage, up until her father became an Earl.