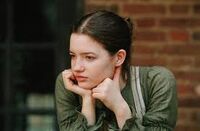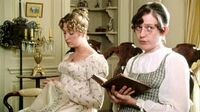 Mary Bennet is the third of the five Bennet sisters.
She is theorised to be between 18 and 20, since Catherine (Kitty) is two years older than Lydia, and Elizabeth is less than 21 years old in the early stages of the novel.
Mary is regarded as the only plain-looking Bennet sister, and though much more sensible than Kitty and Lydia, she is still considered to be very silly by her father. Despite the fact that she is studious and was once described as the most accomplished girl in the neighbourhood, she lacks genius and taste, and is also pedantic and conceited. These unpleasant characteristics become especially evident during the Netherfield Ball, where she (unknowingly to herself) embarrassed her family by singing and playing badly.
However, it must be noted that Mary is still a sympathetic character: her parents are biased and ineffective, her two older and younger sisters have neatly paired-off together, which leaves her alone, and she is probably the Bennet daughter who is most ignored, which might be why she puts so much effort in trying to impress people.
After her older sisters were married and went away, Mary improved somewhat as she was finally given a consistent amount of her mother's attention, and no longer had to suffer the frequent comparison between her sisters' beauty and her own.
In James Edward Austen-Leigh's A Memoir of Jane Austen, Mary ended up marrying one of her Uncle Philips' law clerks, and moved to Meryton with him.
Bennet Family
Edit