Mrs. Gardiner
Talk

0
78pages on
this wiki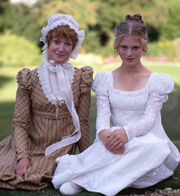 Mrs. M. Gardiner is Elizabeth's sensible and intelligent aunt. Her given name is M---. In fan fiction she is frequently named Madeline, but is an unlikely choice. Her age is never said but is several years younger than Mrs. Bennet and Mrs. Phillips. Her primary residence in London, is in Gracechurch Street somewhere near Cheapside and within view of her husband's warehouses. She is married to Edward Gardiner and has two girls, ages 6 and 8 (as of July) and two younger boys, with the possibility that they may have more.
Physical Characteristics: She does not have as much endurance for walking as does Elizabeth.
Personality Characteristics: Mrs. Gardiner is an intelligent, amiable, sensible, elegant, and generous woman. She is also a good listener whose discretion can typically be counted on and an excellent source of good advice.
What to call her:
Mrs. Gardiner - pretty much everyone except close friends and family.
My aunt - this is how the Bennet daughters typically refer to her