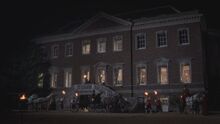 Netherfield Park is an estate located in Hertfordshire. It was owned by a Mr. Morris before being acquired by Charles Bingley[1].
In the 1995 miniseries adaptation,starring Jennifer Ehle and Colin Firth. Edgcote House, in south-west Northamptonshire, served as both the interior and exterior of Netherfield Park, along with Brocket Hall, in Welwyn Garden City, Hertfordshire as the Netherfield ballroom.
In the 1980 TV series with David Rintoul as Darcy and Elizabeth Garvie as Elizabeth, Netherfield Park/Hall was filmed at Wellvale Hall near Alford in Lincolnshire.
Notes and references
Edit
↑ Pride and Prejudice, Vol. I, Chapter 1