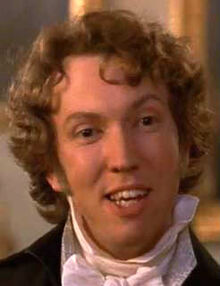 Robert Ferrars is a character in Sense and Sensibility. By the end of the novel, he is married to Lucy Steele, the ex-fiancée of his elder brother Edward. He is the younger son of Mr. and Mrs. Ferrars, and brother of Edward Ferrars and Fanny Dashwood. He is brother-in-law to John Dashwood, Anne Steele, and Elinor Dashwood Ferrars.
Personality and traits
Edit
Robert is like his sister in his sense of fashion and hauteur. He is snobby and looks down on the Dashwood women. He only cares for status, fashion, and his new barouche.
Unlike the female relatives of his family, he has a regard for Miss Lucy Steele, the conniving ex-fiancée of his brother. After Edward was disowned, the fortune fell to Robert. It is unknown, however, whether his marriage to Lucy inspired the same reaction in his mother, and whether or not he was disowned or the original inheritance was restored.