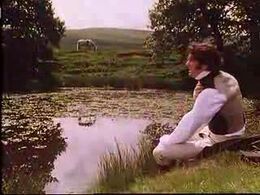 "The Lake Scene" is one of a number of scenes unique and original to the BBC 1995 6-parter mini-series adaptation; the serial is often associated with a scene in its fourth episode of the 1995 mini-series, where a fully-dressed Mr. Darcy, after having emerged from a swim in a small lake located upon his private estate, accidentally encounters Miss. Elizabeth Bennet on his way onto Pemberley Hall.
While many critics attributed the scene's appeal to Firth's sexual attractiveness and vice-versa, the script-writer Andrew Davies thought that it unwittingly "rerobed, not disrobed, Austen"; when he had originally wrote the scene (it was not part of Austen's novel), he did not intend to highlight a sexual connection between Elizabeth and Darcy but to create "an amusing moment in which Darcy tries to maintain his dignity while improperly dressed and sopping wet".
An earlier scene, also unique to the 1995 mini-series, shows Mr. Darcy fencing before he sets out back to Pemberley early, at the end of which he says to himself that "[he] shall master this", refering to his unabated, undying feelings for Elizabeth; and later when Darcy, having arrived onto his estate passes by the small lake, stops to have a rest, the combination of the hot summer weather and his turbulent feelings, Darcy decides to take a dip in the lake water to cool off (making it both literally and figuratively speaking a cold shower). Afterwards, having cooled-off to his satisfaction, Darcy is on his approach up to the hall only to cross paths by chance with Elizabeth with her Aunt and Uncle Gardiner on their Summer holiday tour of Derbyshire, there-by increasing an already-awkward event while in wet clothes.
The BBC opposed Davies's initial plan of having Darcy naked, but the producers discarded the proposed alternative of using underpants as anachronistic and silly. Since (according to Davies) Firth also had "a bit of the usual tension about getting [his] kit off", the scene was filmed with Firth in his character's linen shirt, breeches and boots. A stuntman, who appears in midair in a very brief shot, was hired because of the risk of infection with Weil's disease at Lyme Park. A short underwater segment was filmed separately with Firth in a tank at Ealing Studios in west London.